About Nina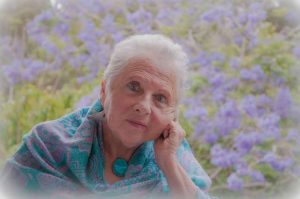 Nina Angelo was born in Athens, Greece and migrated to Sydney, Australia with her parents in June, 1949.
In the early 60s, she nourished her passion as an artist at the National Art School, East Sydney, experimenting with such art forms as interior decorating and design, painting, sculpture and textiles.  Her interests eventually led her on an adventure around the world to experience different cultures and gain inspiration.
In addition to her many skills, Nina has founded, coordinated, publicised, taught and work-shopped creative and community arts and festival events throughout Australia for over thirty years.
She has also featured in two documentaries called 'A Lasting Impression' and 'Tapa Tradition'. This cross-cultural exchange between an Australian Community Artist and the people of the Fiji Islands documented for the first time the ancient Pacific tradition of making and printing bark cloth or tapa/masi.
She has demonstrated and consulted on specialist screen printing and airbrushing techniques for professional organisations and the garment industry in Fiji and has taught in primary, secondary and tertiary institutions in metropolitan, regional and remote parts of Australia, the Pacific Islands and Greece.
With vision and dedication, Nina's work is as diverse as the demand, whether it be founding community festivals, setting up screen-printing enterprise projects, city and town banner projects, as artist in residence in schools or making community storybooks.
In the early 90s, the Canadian Government and the Development Bank of Tuvalu funded Nina's work in Tuvalu where she taught screen printing techniques to a range of local artists and then trained community leaders to set up small income generating art based businesses.
Her art is constantly innovative, as Nina is prepared to take risks, experimenting and exploring new art forms, which are relevant to the groups with whom she is working.
Nina's work and her contribution to community and culture has been recognised in a range of honours and awards. She has been a member of the Commonwealth Regional Art Assessment panel assessing applications for grants to the visual arts for five years.
She was Artist in Residence in Fiji under a Professional Development Grant from the Australia Council for the Arts in the 1990's. This led to additional grants from AidAb (now AusAid) and the Department of Foreign Affairs to produce three short  documentary films associated with her work for distribution throughout educational institutions, government departments, art associations and for archival purposes.
Nina has been awarded Australia Day Community Awards in 2004 and 2007 for her work in Communities and Culture. She is also the recipient of Governor of NSW Children's Week Award  for her work with children in remote locations.
In 2009 Nina was awarded the Order of Australia Medal  (OAM) in the Queens Birthday Honours list for her 'Service to the Arts and the Central Coast Community'.
Nina is on many boards and cultural committees with the aim of focusing attention to the importance of the creative spirit in us all and capturing the stories of our culture in our times. She is a connector of the creative dots in communities
Nina has written her first book, a memoir "Don't Cry, Dance" celebrating and honouring life, love, family and tolerance of people from all cultures, colours and creeds. She discovered her father Alberto's interviews from 30 years ago, which had been held in the Holocaust Museum in the USA, and combined these with her mother Janka's story, who first met her father in Auschwitz. As a storyteller and artist, it was time to add her story to theirs, and leave a lasting memory for her children, grandchildren and for future generations.
In 2017 Nina was awarded an Edna Ryan feminist award for her life's work empowering women, sharing their stories through the arts.
Nina works and teaches in her studio in MacMasters Beach and is a mentor for young artists, an arts consultant and a cultural activist passionate about our stories and the role of the artist in all genres, interpreting and telling the stories of our time.
Nina's awards